Are Roof Skylights Worth Investing In?
A skylight installed in your roof is a fantastic way to bring sunshine through to the interior of your home. Though they bring the warm & inviting sunlight into your living spaces, conventional roof skylights can pose a serious threat to the structural integrity of your home. Furthermore, they bring a lot of heat in during summer – and you loose a lot of heat during the colder months of the year.
Skylights need a tubed channel from the roof down to your ceiling to let the light into your home. If your roof space allows a skylight to be built, they can also be susceptible to leakage and hail damage – especially a few years after installation. This, obviously, can become expensive to repair & maintain—though still remaining just a fraction of the cost that it would be to install a new sky light!
Solar Light Whiz brings you skylight alternatives that can be installed nearly anywhere in your home. The system relies on LED lighting fixtures powered by PV panels installed on your roof. The system is non-invasive to your home's structure, comes in many shapes & sizes, is reliable, and modular! Want to install more than one LED light? Solar Light Whiz is capable of loading up to ten solar LEDs per solar panel! With such room to grow in a market focusing on green, renewable technology, Solar Light Whiz is ideal for you!
What will Solar Light Whiz offer me that a Skylight can't?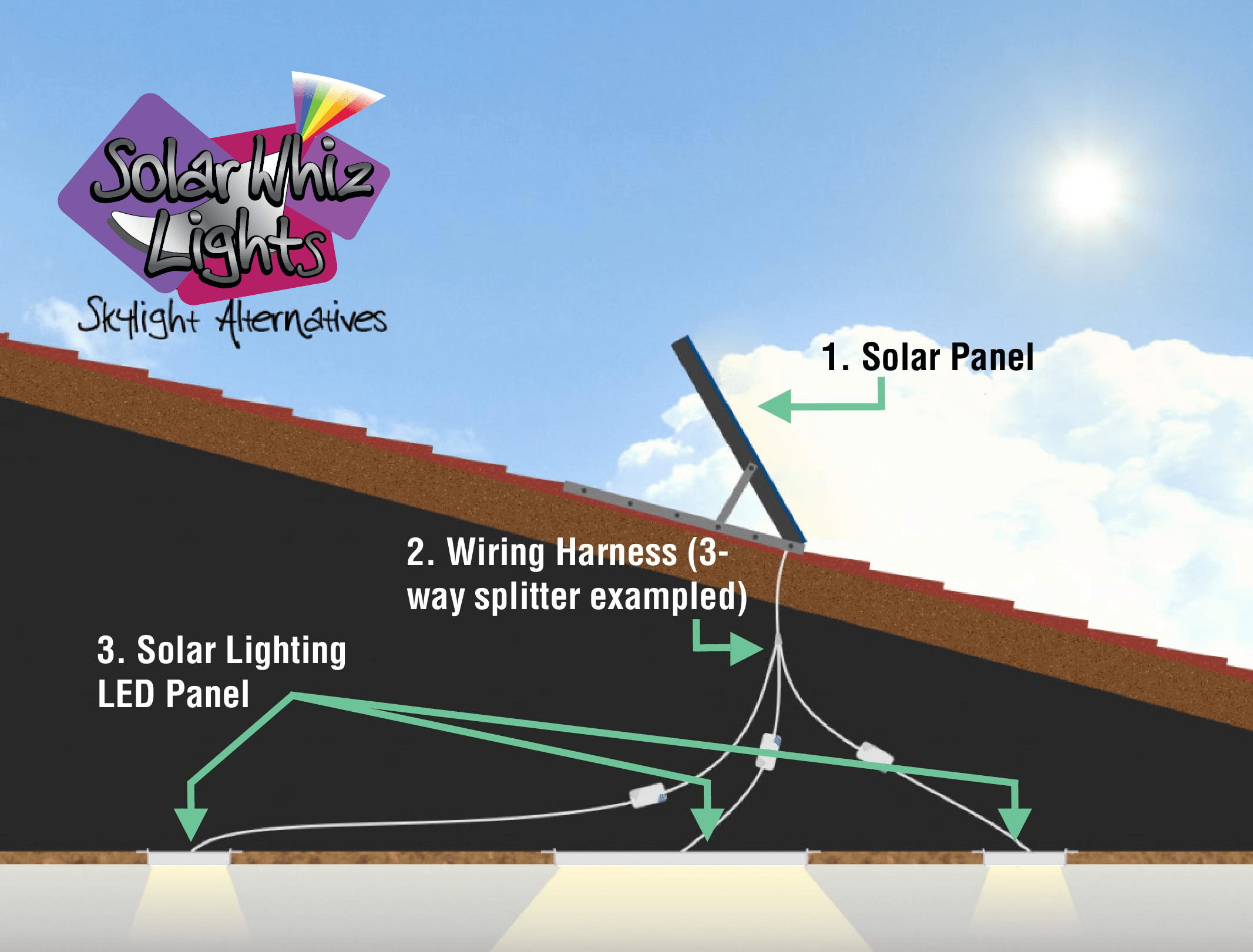 Solar Light Whiz can offer a greater light contribution during overcast weather conditions compared to a traditional skylight. It can also be operated at night, using a night operations kit.
Our systems are efficient, and versatile. They are easily installed and can be done with the help of our detailed DIY guide!
The adjustable frame that is provided with the solar panel allows you to position the panel on many surfaces. This ensures that no matter what direction your home faces, the solar panel can be installed to catch as much sunlight as possible! As well as this, the frame is capable of being mounted to both tiled, and metal roofs—suitable for all styles of homes across Australia & beyond!
Interested in learning more about the benefits of skylight alternatives?
How does Solar Light Whiz Perform?
While being easy to install, Solar Light Whiz are also non-invasive to the structural integrity of your home. Being that our sky lights don't channel through your roof space, and that our LED lights are quite slim in design, they can be installed in almost any situation. Living in an apartment underneath multiple stories? Not an issue for Solar Light Whiz. Need a bright light in your bathroom space? Solar Light Whiz is ideal for you! Being a skylight alternative that runs on solar power, the Solar Light Whiz system dims naturally as a conventional skylight would when the sun is concealed. This allows for the slow introduction of light in the morning, and the receding of light at night!
As well as this, the system can be installed with a night operation kit to ensure that the Solar Light Whiz system runs at full capacity throughout the day and at night.
Interested in seeing the comparison for yourself? Here are some before-and-after shots went to us from a customer!