(no index) Is A Sky Light Right For You?
A conventional sky light is an excellent way to bring warm, inviting sunlight into the home. However, there are occasions where harsh weather conditions could damage the structure of your home. A sky light requires a channel through the roof and roof space to the ceiling of your home. In some scenarios, water damage can create holes in your ceiling—sky lights can be a large liability in these cases! Though these instances are not regular, they are far from uncommon. Consequently, it's still wise to consider your options before committing to installing a conventional sky light in your home.
Solar Light Whiz brings you the benefit of roof skylights while also being non-invasive to the structure of your home. We provide a variety of solar LED shapes & styles, which enables you to power up to ten LED lights from a single PV panel! And to top it all off, Solar Light Whiz is free to run, because it is capable of running entirely from solar power!
How does it Work?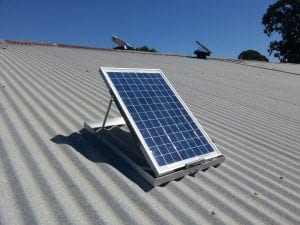 A Solar Light Whiz skylight alternative runs purely on solar power, and even in conditions where sunlight is scarce! Cloudy day? No problem! Our solar panels are tough, as well as efficient. They're also easy to install, and capable of running up to ten LED units from a single solar panel.
With our adjustable frame, the solar panel can be positioned on a roof facing almost any direction, provided there's access to sunlight! They are able to be mounted on both tiled, and metal roofs. This allows the Solar Light Whiz to be an effective lighting solution for many styles of homes, or businesses!
Interested in learning more about the benefits of skylight alternatives?
How do our Skylight Alternatives Perform?
Our solar sky light alternatives are easy to install, and are generally non-invasive to the structure of your home. Imitation skylights can be installed in almost any area of the home. Lower level of a two-storey home? No problem. Apartment? Not an issue. The lighting is also capable of dimming naturally, just like sunlight would dim behind thick clouds.
Want to use the LED's at night? Solar Light Whiz units are capable of operating at night time with the help of our night operations kit!
Interested in seeing the results for yourself? Check out a comparison photo sent to us by a customer!