Lighting with Solar Lights
If you are looking to brighten up dark areas in your home or workplace, Solar Light Whiz provides you with a broad range of, high quality, energy-efficient lights for your consideration.
A Cost-Effective Alternative Lighting System
A solar light system is an efficient and cost-effective alternative to traditional skylights, especially in hard to reach places, or in internal rooms. Where it is impossible to install a skylight in first-floor rooms, Solar Light Whiz can offer a lighting solution that satiates the need for natural-feeling light. Additionally, our lights are ideal in spaces where a single roof skylight would be incapable of evenly distributing light, such as in corridors, hallways, lower stairwells or walk-in robes etc.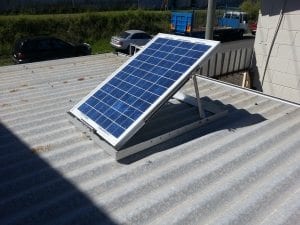 Our lights can be operated solely on solar power, meaning that they have zero running costs! For this reason, we also refer to our lights as 'solar skylights'.  If you choose to run you lights without any of our accessories, they will mimic the actions of a regular skylight. That is, they will naturally dim and brighten with the available daylight; adding the feeling of natural light to the room.
Solar Light Whiz also gives you the opportunity to hook multiple lights up to a single solar panel (normally) placed on the roof (which can save you a bit extra on the installation price).
We also provide dimmers for your lighting system – allowing you to dim or turn off your lights at your convenience. This could be of particular use if you have solar lights installed in media rooms or bedrooms. You may also want to turn the solar lighting off if you are going away for an extended period of time.
Turning the system off when you go away on holidays etc. will add additional life to the already very long life expectancy for your solar light (estimated at 50,000 hours of operation).
Solar Lights for Indoor Use During the day
Many rooms in the house often struggle to get enough natural light. Interior rooms such corridors, pantries, hallways and bathrooms are notorious examples. Larger rooms also frequently struggle with natural lighting because the windows are not large enough to bring in sufficient amounts of sunlight. Kitchens, living rooms and bedrooms on the bottom floor of a multi-storey home often suffer from the same issues.
Without Solar Light Whiz, these rooms may be illuminated using regular LED solutions. These lights may serve their purpose, but they lack the natural daylighting feel that our lights provide. Solar Light Whiz may not provide real, direct sunlight to large, lower-storey or internal rooms, but they have been carefully designed to mimic the colour and warmth of daylight. Our lights can even dim and brighten just like a conventional skylight would!
Multi-storey homes are where solar-powered lights such as solar skylight alternatives, LED solar lights and LED lighting systems are most popular. Largely because these energy-saving lighting options enable the occupant to have good ceiling lights, without electricity consumption.
What if you just want a regular solar-powered LED system?
We get it, not everyone is after an imitation skylight. If you're one of those people then we have good news for you, our lights can be used just like any regular LED!
Solar Light Whiz is a dimmable LED indoor solar light, which can be used as a solar-powered light during the day and a regular dimmable LED after the sun has set.  With the Solar Light Whiz night pack, you can switch the solar-powered system to operate on mains power, ensuring adequate lighting at all times, without the need for a second set of lights, which are unnecessary and costly.
Our lights are designed to be used even when there is insufficient solar radiation to fully power the lights. The night operations kit can also be used during the day to 'top-up' the solar power, and allow the lights to be used at full capacity, even during overcast conditions.
Solar Light Whiz uses the PWM dimming method for our LED panels/solar LED lights. Click on this link if you wish to know more about methods used for dimmable LED lights.
Low voltage LED lights are ideal for solar lighting applications and Solar Light Whiz' entire product range can operate on 24 volts or as indoor solar LED Lights with or without night time options.
What if you have an existing lighting system?
If you already have lights installed, but still want solar-powered ones, no problem! Solar lighting can be installed in addition to an existing lighting system. Installing additional solar-powered lights still saves energy; just don't turn on your non-solar powered system!
However, if you are looking at replacing current lights, or building a new home or office, why not install our solar LED lights? Give us a call or email us to get in touch. Solar Light Whiz is happy to assist you with any inquiries you may have regarding our range of solar lights Bunning's alternatives.
If you're interested in reading about skylights and other types of solar lighting, we would suggest the linked article from Solar Electric Company for some good information on the topic.