Solar Lighting – Great for a Variety of Environments
Solar-powered lighting is starting to be used more frequently in both homes and commercial settings such as offices, hospitals and schools. Solar LED lights provide light, comfortable work environments without unnecessary energy consumption.
Lighting your Home with Solar Light Whiz
Solar Light Whiz is a fantastic lighting solution for all the rooms in your house! Our customers have installed our ceiling lights in kitchens, bathrooms, living rooms and hallways, to name just a few.
Kitchen installations:
A variety of customers have turned to Solar Light Whiz to brighten up their kitchen with strong, neutral & natural lighting. Installed in the kitchen, our lights serve as excellent led downlights for optimal task lighting. Given the flexibility of our products, a solar LED system is perfect for many different kitchens styles. Interested in discovering more about kitchen lighting with Solar Light Whiz?
Bathroom installations:
Solar Light Whiz is also ideal for bathrooms! With adjustable dimmer switches, you can make the light as soft or bright as you require in the early morning or evening!
Much like in the kitchen, bathrooms generally require a high number of lumens to assist in cleanliness and providing an ideal environment to partake in the necessary daily grooming activities. Solar Light Whiz performs spectacularly as an led downlight and task light for these tasks.
Living room & dining room installations: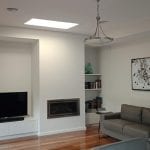 Solar Light Whiz makes perfect feature pieces for rooms that you'll be entertaining in, or spending the most time in! Designed to closely mimic the colour and tone of natural sunlight, our lights provide the perfect ambient and general lighting for living and entertaining spaces.
Solar Light Whiz has a broad range of lights, from humble circular lights to larger rectangular feature lights, that can be installed flush (flat) or recessed into the ceiling.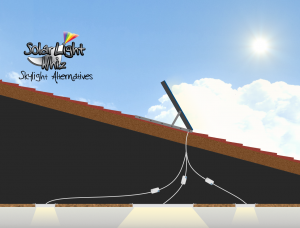 Many of our customers end up adding one or two small solar-powered ceiling light to their main installation in hard-to-light areas like walk-in robes, hallways and corridors. These "add on" ceilings lights are extremely good value if you are considering ceiling lights in other areas.
Check out our residential gallery to see some of the brilliant results our customers are enjoying throughout their homes!
Lighting your office or workplace with Solar Light Whiz
Solar LED Panels for Factories
Solar Light Whiz LED panels can be a great solar-powered alternative to conventional lighting systems and can often replace most lighting needs in factory buildings. Our lights provide illumination throughout factories to give a clear, strong, yet pleasant light within the workspace.
Put simply, solar LED panels can replace most lighting fixtures and devices within the factory safely and without running cost during most days. When paired with our day/night back-up option, you can realise bigger savings and contribute to the shift towards renewable energy use, without compromising on the quality of the lighting. We realise that every factory requires light, whether it be day or night and we firmly believe that our products are a great LED panel light which can provide ongoing light in a variety of applications.
Global Eco Solution's showroom and office:
Solar Light Whiz is so good that we use our own lights to brighten up our workplace. We use them both as solar-powered ceiling lights and skylight alternatives. If you're local or in the area, we strongly encourage you to visit us in our showroom in Camberwell, Victoria to check the lights out for yourself.
Our display set-up shows a wide range of Solar Light Whiz products in different shapes: round, rectangular and square to allow you to figure out what alternative lighting suits your particular needs the best.
Solar Light Whiz is suited perfectly for the office environment. The fixtures are quick and easy to install (DIY friendly), fitting directly into ceiling panels. After installation, there are no (or very minimal) ongoing costs, so it's only a matter of time before you start making a return on your electricity bills. Whether you're looking for additional lighting in your office or to replace your current lighting solution completely, a Solar Light Whiz is the best option.
LED Lights for Schools
Similar to offices and factories, schools also use a lot of energy to ensure appropriate lighting. Think about how often lights are left on during the day and the associated energy consumption. By installing Solar Light Whiz throughout your school, you'll be able to run the lights throughout the day without ongoing cost, and no skylight leak danger, while the sun does all the work. Lighting in schools and child care institutions is an ideal application of the Solar Light Whiz, as the Solar LED panels can be installed quickly and without hassles to illuminate hallways, classrooms and meeting areas.
Hibiki Cafe – Victoria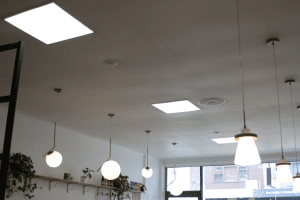 Solar Light Whiz helped brighten the Japanese-inspired Hibiki Cafe in Camberwell, Victoria—just a short walk down the road from Global Eco Solutions' Showroom & Office!
The team at Hibiki were renovating an old storefront and needed a warm and inviting lighting solution. The roofing space wouldn't support a traditional skylight, but did, however, easily support ceiling lights.
Three SLW2-595-595N LED panels helped them provide bright, wide-reaching lighting to their customers without strong glare. These create an inviting atmosphere that supports the modern-contemporary decorative style.
If you're coming down to Global Eco Solutions' Showroom to check out Solar Light Whiz among our other products, treat yourself to a cup of coffee and see the skylight alternatives in action!
Sunset Boulevard – QLD
Altum Constructions' Sunset Boulevard in Little Mountain, QLD had a number of Solar Light Whiz installations in hallways and bathrooms. These provide ample light to the interiors of these modern family homes.
If you're located in Australia's sunny north, we also have a showroom at Sunshine Skylights in Moorooka, Queensland where you can get a free quote & view our solar skylight alternatives.
Solar Light Whiz as a Skylight Alternative
Solar Light Whiz brings you a skylight alternative that can be installed nearly anywhere in your home. The system relies on LED lighting fixtures powered by solar (PV) panels installed on your roof. If you choose to run you lights without any of our accessories, they will mimic the actions of a regular skylight, and for this reason, we also refer to our lights as 'solar skylights'.That is, they will naturally dim and brighten with the available daylight; adding the feeling of natural light to the room.
Being a solar LED light, the system comprises of an LED fixture, a solar panel, and the wiring that connects the two. This means little-to-no structural invasion, resulting in significantly cheaper installation costs compared to traditional skylights and the freedom to install practically wherever you desire.
The system is non-invasive to your home's structure, comes in many shapes & sizes, is reliable, and modular! Solar Light Whiz is capable of loading up to ten solar LEDs per solar panel! With such room to grow in a market focusing on green, renewable technology, Solar Light Whiz is ideal for you!
Another benefit of solar LED skylight alternatives is their DIY-friendly installation. Solar Light Whiz was designed with ease-of-installation in mind. Our entire system can be installed without the need for an electrician or contractor. You only require an electrician if you need to install a power socket for the optional night operations kit.
Solar Light Whiz – Solar-Powered Lighting Systems
LED lighting provides a powerful, and energy-efficient solution to lighting. LED panels are generally compact and produce a large lumen count for nearly a sixth of the old-style incandescent bulbs power consumption.
Solar Light Whiz brings solar power to lighting, cutting electricity costs even further. With the capacity to operate up to ten LED lights from a single solar panel, Solar Light Whiz gives you a clean, free-to-run option to counter any other conventional lighting system.
Our solar lights operate with ser-running costs during the day, as they're powered by the sun. With the addition of a night operations kit, you can switch the solar-powered system to operate on mains power, ensuring adequate lighting at all times.
Night operations works during the day by 'topping-up' and allow the lights to be used at full capacity, even during overcast conditions. The lights then function exactly like a regular LED light fixture. Having your solar lighting system doubling up as your LED house lights makes perfect sense and will save you a significant amount on your electricity bill every year.
Give us a call at 1300 609 996 or email us at ges@ges.com.au to get more information for your lighting needs!