Illuminate Your Bathroom & Toilet with Solar Lighting.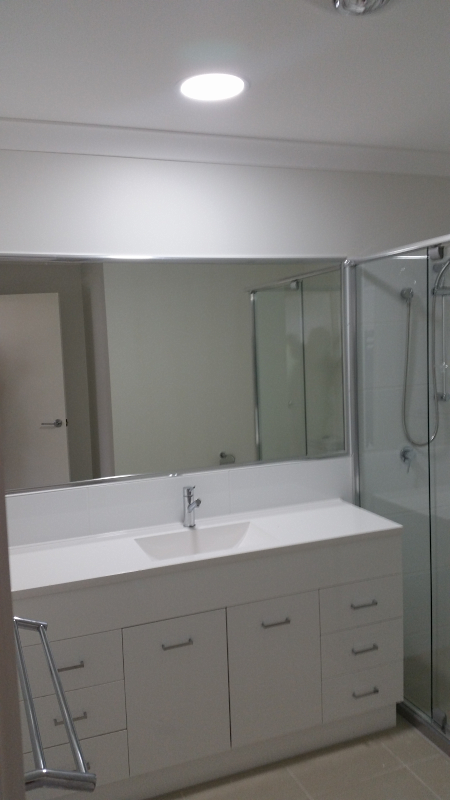 We all love to have beautifully bright and well-illuminated bathrooms. Ceiling lighting in bathrooms generally requires a high number of lumens, similar to your kitchen. This not only gives us a feeling of cleanliness but also provides an environment where it is easy to see while we complete life's daily grooming tasks like shaving, make-up application, freshening up or getting ready for a night on the town.
Solar Light Whiz LED solar lights produce a colour temperature of 4000-4500K (a natural daylight colour temperature) so they represent a remarkable similarity with the natural light provided by the sun. So when you're checking yourself out in the mirror under Solar Light Whiz bathroom lighting, you can be confident that it will resemble how you look to others when you head out.
Most of our home lighting competitors such as Solaro and Illume have a colour temperature that is more of a blue colour (generally a higher Correlated Colour Temperature (CCT)), and your reflection can look quite different under this colour light. Colour is very important when choosing ceiling lights, and is a factor that is all too frequently overlooked.
Solar Light Whiz and Your Bathroom
Solar Light Whiz can operate entirely free of any running costs, powered completely by the sun and a solar panel. Operating like this, our lights dim and brighten with the available daylight; brightening in the mornings or when the sun is out, and dimming as the sun sets or is obscured by clouds.
As a result, the room will be naturally illuminated much as it would be by windows or a traditional skylight. For this reason, our product could also be referred to as a bathroom skylight. However, our bathroom skylights are better designed than a regular skylight because they brighten up spaces evenly, making them much more effective for bathroom lighting.
The major benefit of this feature is that during the day you won't have the hassle of having to flick a switch to turn on your light; and more importantly; you won't have to remember to turn off your LED lighting when you leave the home! Many people frequently forget to turn lights off after leaving the room or house, potentially costing a lot of money when it comes time to pay the electricity bills.
Solar Light Whiz is incredibly flexible to install, which means that it can easily accommodate for your specific lighting requirements. Our lights can be installed directly over basins and vanity mirrors for task lighting, in place of a normal ceiling light or even wall light fixtures!
We even have the option of mechanically vented lights! With this option, our lights can double as an exhaust fan, reducing the number of fittings on the ceiling (particularly convenient in small bathrooms). Our mechanically vented lights work by integrating a Solar Whiz fan system with the light fitting and effectively ventilate whilst illuminating the room.
Solar LEDs can also help you maintain a cleaner bathroom, as you will see dirt you didn't see in the past before your LED lighting systems were installed.
What Happens at Night?
Bathrooms need to be lit at all times of the day, and that includes during the night. Solar Light Whiz is more than just an imitation bathroom skylight and can be easily installed as a complete LED ceiling light system. If you need the lights in your bathroom to be powered at full capacity when the sun goes down, Solar Light Whiz is still the solution for you!
With the Solar Light Whiz night pack, you can switch the solar-powered system to operate on mains power, ensuring adequate lighting at all times, without the need for a second set of lights, which are unnecessary and costly.
Installing a Solar Light Whiz system with a night operations kit also allows you to manually adjust the brightness of the light, regardless of the time of day or sunlight availability. he night operations kit can be used during the day to 'top-up' the solar power, and allow the lights to be used at full capacity, even during overcast conditions. Perfect for those times when natural lighting isn't quite enough to suit your needs.