Illuminate Your Living Room with Solar Home Lighting
Your living room is the room where you spend most of your time with the family and is often the meeting point for conversation and relaxation after a long day of work/school/activities. It is where friends and guests are entertained and a frequently used area of the house for having a casual drink. It is also a great place for having a bit of personal time to watch a movie or read a book on the couch. The Solar Light Whiz ceiling lights can be used to provide light in all areas of your living room.
The lumen level for Solar Light Whiz solar-powered home lighting required for a living room is much lower than other rooms. For example, it doesn't need to be as bright as your kitchen lighting (as you normally wouldn't do the same detailed work) or bathroom lighting, but it still needs to have enough light to read and carry out other activities.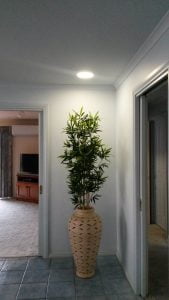 Generally speaking, we would recommend about half the amount of lumens produced from our LED lights (per square meter) for your living room compared to your kitchen or bathroom; this means you can brighten your living room for a smaller investment than other rooms; however, this will depend on your particular situation. Feel free to contact us to find out how you can use the Solar Light Whiz solar-powered home lighting system to brighten your living room.
As can be seen by the photo on the left, the Solar Light Whiz can be used as a solar LED light to highlight certain features contained within the living room. Drawing attention to paintings, appreciating decorations or heirlooms—you name it. Solar Light Whiz can provide light for it—and all without the damaging UV radiation contained within the light provided by a traditional tube skylight, which will damage and fade most materials.
If you are reading a book or perhaps watching a movie, you may require a lower level of light to be emitted by the LED lighting. This can easily be achieved by using our special dimmer added to your LED lighting systems!
Reviews and Testimonials
"A big thanks to John and Aaron for doing such a good job of installing our new solar lights in the kitchen, family and patio areas.
We have a large patio area built onto the house which caused the kitchen and family areas to be very dark during the day.Even the patio didn't get enough light during the afternoon.
We called John out to give us a quote on skylights and after seeing our problem, suggested a new product. Solar Light Whiz which can also be used at night on normal power.
They have actually been amazing, lighting up a much larger area than a skylight could have achieved.
We are very impressed by the product and would recommend then to anyone looking at skylights.
They are far more efficient, giving out more light and look much neater, replacing our existing down lights, so no extra holes in the ceiling.
Unlike normal skylights we haven't noticed much of a difference when we have cloud cove, the lights seem very bright even quite late into the afternoon.
Also a big thanks to Allan for his help organising the installation and work on yet another new product. The dimmer for the solar lights.
Really looking forward to seeing them and organising to get some installed. The addition will make these lights a very clever product indeed. Thanks again"
David & Janet – Caloundra, QLD
If you have had Solar Light Whiz LED solar lights installed as your home lighting, please write us a review on our Google + page!