Solar Light Whiz as a Solar Skylight
Solar Light Whiz's range of solar-powered skylight alternatives gives you a lot of different options when looking for solar lighting in your home or workplace.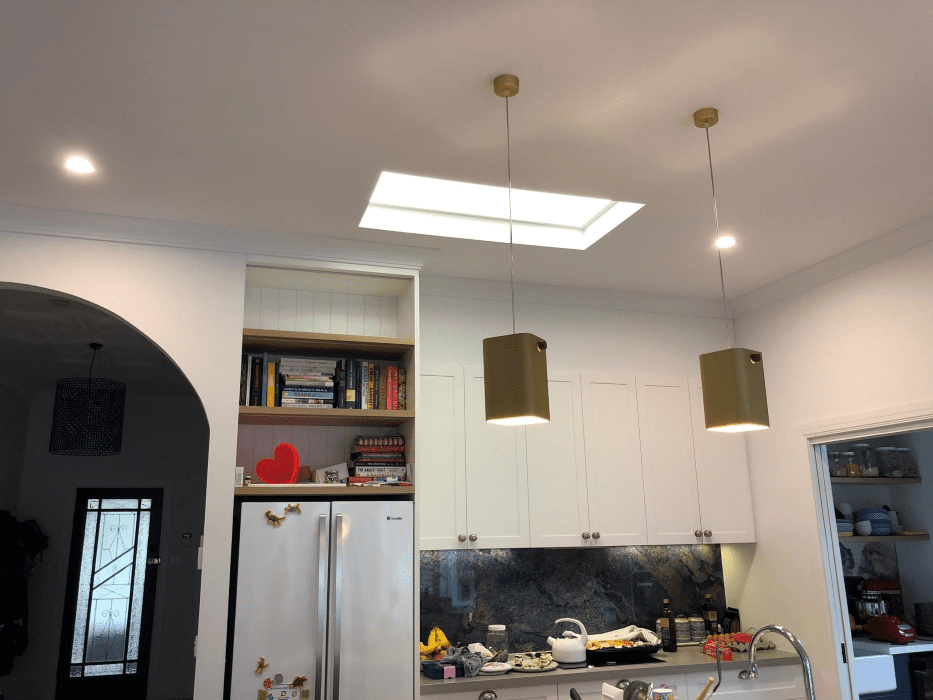 Skylight alternatives are the ideal way to brighten up dark areas within your home or workplace during the day, for no cost. Our innovative technology, high lumen output and night operation option sets Solar Light Whiz apart from our competitors also selling solar lighting options.
Our solar skylights can be installed quickly, easily and beautifully nearly anywhere in your home. The system relies on LED lighting fixtures powered by solar (PV) panels installed on your roof. If you choose to run you lights without any of our accessories, they will mimic the lighting behaviours of a regular skylight. That is, they will naturally dim and brighten with the available daylight; adding the feeling of natural light to the room.
Being a solar LED light, the system comprises of an LED fixture, a solar panel, and the wiring that connects the two. This means little-to-no structural invasion, resulting in significantly cheaper installation costs compared to traditional skylights, as well as the freedom to install practically wherever you desire.
The system is non-invasive to your home's structure, comes in many shapes & sizes, is reliable, and modular! Solar Light Whiz is capable of loading up to ten solar LED lights per solar panel! With so many options and an ever-growing market focussed on green, renewable technology, Solar Light Whiz is ideal for you!
Another benefit of our solar LED skylight alternatives is their DIY-friendly installation. Solar Light Whiz was designed with the customer in mind. Our entire system can be installed easily without the need for an electrician or contractor. You will only require an electrician if you need to install a power socket for the optional night operations kit.
Solar Light Whiz – the Contemporary Skylight Alternative
Our Solar LED lights are skylight alternatives that offer variable lighting colour temperature between 3,000K – 6,000K, between 'Warm White', 'Daylight' and 'Cool White' colours. With our lights, you can choose how you want your lights to look and suit them to your own aesthetic preferences!
While regular skylights are a popular feature lighting piece, they do pose serious threats to the integrity of your home. Heat contribution and UV radiation can create an unpleasant indoor environment and cause damage to your furniture. The limited options for placement, expensive installation and the single lighting outlet means that skylights are only functional in a small number of situation and homes.
Solar Light Whiz as a contemporary skylight alternative is an incredibly versatile system that is easy to install in any number of homes and buildings. Our systems are customisable and adaptable to your personal preferences and requirements. Additionally, installing our lights is non-invasive and won't threaten the integrity of your home like traditional skylights can.
We also have an entire page about the benefits of skylight alternatives as an alternative to conventional skylights, and it's well worth the read.
Solar Lighting with Solar Lights
Solar lights or LEDs are also a great and cost-effective alternative to traditional skylights for hard to reach spaces and rooms such as corridors, hallways, lower parts of stairwells, walk-in robes, pantries or kitchens. These areas are most often internal rooms that don't have any windows, and a single roof skylight would fail to effectively brighten the space evenly.
Solar Light Whiz gives you the opportunity to hook multiple solar lights up to one single solar panel (normally) placed on the roof. You can even get a dimmer for the solar lights, allowing you to manually adjust the intensity of your LED solar lighting system. This could be very handy if you have solar lights installed in media rooms or bedrooms.
Turning your solar led lights off when you go away for extended periods of time (on holidays for example), will add additional life to the already extensive life expectancy for your solar lights (estimated at 50,000 hours of operation for solar LED lights).
Solar Lighting during the day – LED Lights at night
Did you know that the Solar Light Whiz products may be used as an led skylight alternative during the day and regular LED lights at night?
Solar Light Whiz can include night operation kits, dimmers and an extensive range of wiring. This includes different kinds of splitters for use when connecting multiple solar lights to a single solar panel and various lengths of extension leads for connecting to solar panels and solar led lights.
The night operation kit into a 240-volt powerpoint and transforms the power from 240 volt AC to 24 volt DC, which means that if you already have the powerpoint you don't need an electrician to install your solar-powered skylight alternative for you, even if you want them to work at night!
Dimmers can be used to manually adjust the intensity of your light, which is particularly handy in media rooms and bedrooms. This is useful in situations where you don't want the light to naturally dim and brighten with the available sunlight. Dimmers also let you turn the lights off completely, should you ever need to.
To learn more about solar light and solar lighting, have a read of this article which talks about skylights and other types of solar lighting.