The Danger of a Skylight Leak
The worst thing about getting a traditional skylight is probably the threat it leaking or getting damaged. Australia's weather ranges from calm sunny days to hailstorms, or even cyclones in the tropics. Most homes are built to withstand the worst that Australia's temperamental climate can throw at it. Yet roof skylights aren't always built with hail or severe weather in mind. In a severe hailstorm, hail the size of golf balls can cause serious damage to your property. The risk of having a skylight leaking into your home is compounded if the skylight is damaged. On the right is an image taken after a tropical storm in Queensland—just take a look!
Investing in a skylight is an attractive way to bring natural sunlight into your home, but it also poses significant structural risk. If you live in tropical regions, this risk is increased given the infrequent cyclones that batter our coastline. A leaking skylight simply isn't an effective skylight!
Want to Avoid a Skylight Leak In Your Home?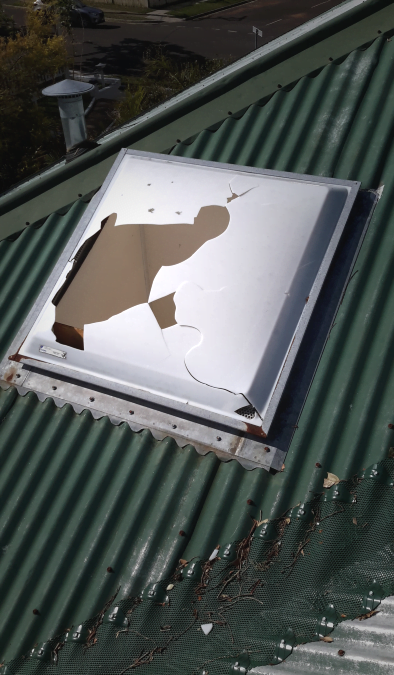 Once your skylight dome or window is damaged, water will easily leak through the channel into your home—or worse; into the rafters. Once moisture begins to gather in your rafters, the skylight poses a structural hazard. Even temperamental weather such as gale winds can also warp or twist a tubular skylight out of place. These potential risks bring us to one important question: Is a roof skylight the really the right solution for your home lighting needs?
The Solar Light Whiz offers a weather-resistant solution to the problem of longevity and risk of leaking skylights. By installing a sturdy mounting bracket to your roof (tile or metal, our system suits all shapes & styles of roofing), we can set up a solar PV panel which powers LED lights throughout your home. These lights come in an array of different styles and shapes to suit your needs and/or preferences. Most of all, the Solar Light Whiz system isn't invasive for your home and poses no threat to your rafters, or your roof space!
The Solar LED Skylight Alternative: A Modern Solution To Skylight Leaking
Our system is very flexible, allowing for additions to be made to the system. If you're interested in adding more Solar Light Whiz LED lights to your home, our PV panels can support up to ten lights from a single solar panel, depending on configuration! If you're interested in reading more about the other benefits of a skylight alternative, click here!
Solar Light Whiz is a safe and simple, no-fuss and no-drama solution to providing lighting for your home. The final result appears similar to a conventional skylight window, but without the risk of a leaking skylight down the track. Solar Light Whiz dims and brightens with the availability of light, emulating the action of skylights and is also energy-efficient. Our lights can operate completely on solar power, and provide enough illumination to function as a lighting source throughout the day, but they can also be paired with a night operations kit so that they operate as a light source at night!
Want to get a quick quote from one of our friendly staff? Click here!