Are Roof Skylights Worth Investing In?
A skylight installed in your roof is a fantastic way to bring sunshine through to the interior of your home. Though they bring the warm & inviting sunlight into your living spaces, conventional roof skylights can pose a serious threat to the structural integrity of your home. Furthermore, they bring a lot of heat in during summer – and you lose a lot of heat during the colder months of the year.
Skylights need a tubed channel from the roof down to your ceiling to let the light into your home. If your roof space allows a skylight to be built, water damage can create holes in your ceiling causing your roof to be susceptible to leakage and hail damage – especially a few years after installation. Because of these reasons, skylights are a large liability and can become expensive to repair & maintain.
Solar Light Whiz brings you a skylight alternative that can be installed nearly anywhere in your home. The system relies on LED lighting fixtures powered by solar (PV) panels installed on your roof. The system is non-invasive to your home's structure, comes in many shapes & sizes, is reliable, and modular!
Want to install more than one LED light? Solar Light Whiz is capable of loading up to ten solar LEDs per solar panel! With such room to grow in a market focusing on green, renewable technology, Solar Light Whiz is ideal for you!
What will Solar Light Whiz offer me that a Skylight can't?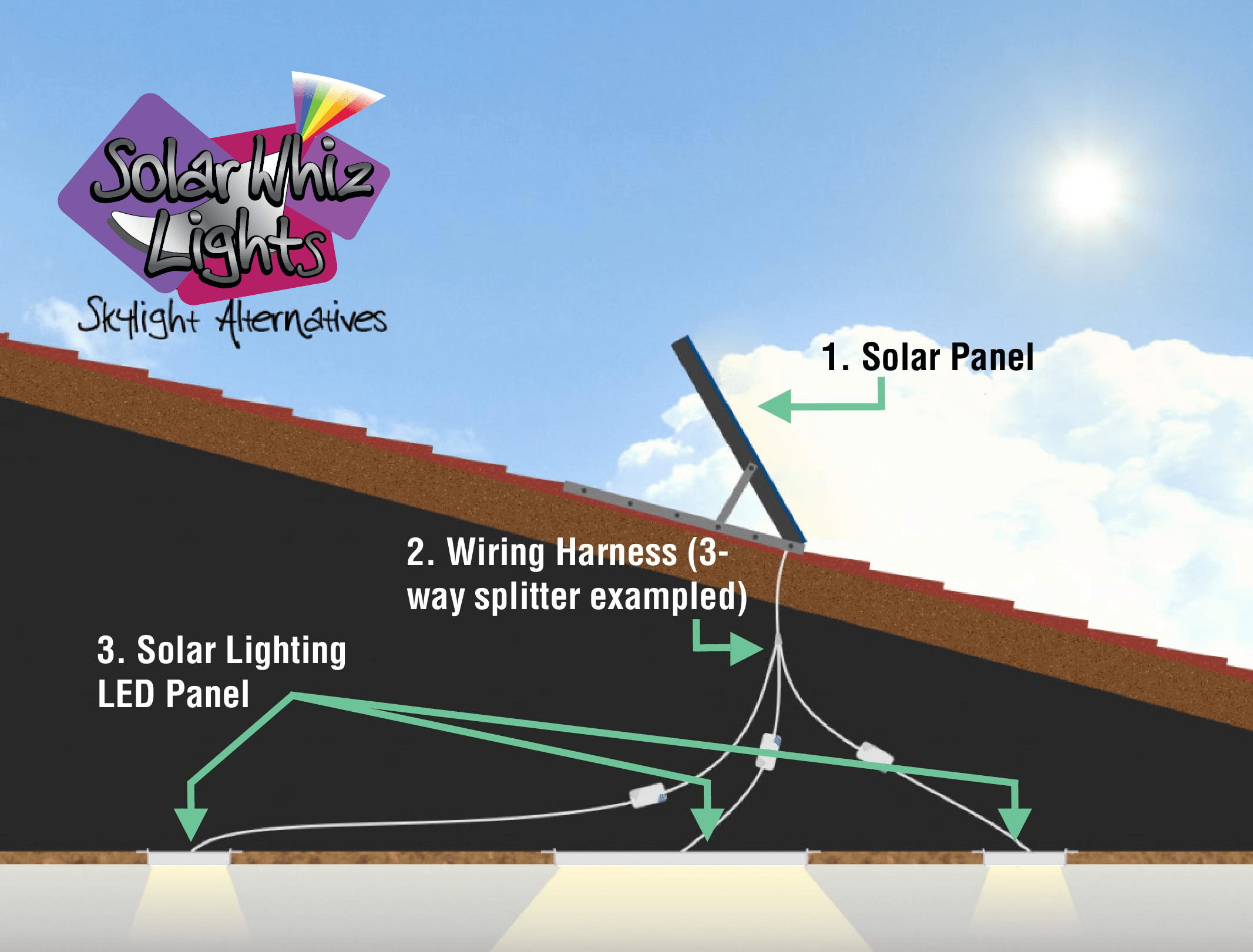 Solar Light Whiz offers a better light contribution during overcast weather conditions compared to a traditional skylight. It can also be operated at night, using a night operations kit.
Solar Light Whiz skylight alternatives operate completely on solar power even under weather conditions that are less than ideal. When sunlight or solar radiation is reduced our solar LED units will dim to reflect the outdoor conditions, but won't turn off!
Overcast days are a non-issue! Our systems are efficient and versatile. They are easily installed and can be done with the help of our detailed DIY guide!
The adjustable frame provided with the solar panel allows you to position the panel to perform well – even if you don't have north-facing roof space available. This ensures that no matter what direction your home faces, the solar panel can be installed to catch as much sunlight as possible! The frame is capable of being mounted to both tiled, and metal roofs—suitable for all styles of homes across Australia and beyond!
Interested in learning more about the benefits of skylight alternatives?
How does Solar Light Whiz Perform?
Solar Light Whiz utilises solar-powered LED lights to illuminate your home. Our lights are a roof skylight alternative that offers a lighting colour temperature of 4,000K – 5,000K, between 'Natural White' and 'Day White' colours. LEDs are a leap up from conventional bulbs, and we offer rectangular, square and circular sizes to accommodate your preferences.
LED light bulbs or downlights produce lighting through electroluminescence. The heat output from an LED lighting fixture is almost negligible, and their wattage use per lumen is incredibly energy efficient.
Incredible installation flexibility:
Solar Light Whiz roof skylight alternatives are easy to install and non-invasive to the structural integrity of your home (unless you choose to have a recessed installation). Since our skylights don't channel through your roof space, and our LED lights are quite slim in design, they can be installed in almost any situation.
Living in an apartment underneath multiple stories? Not an issue for Solar Light Whiz. Need a bright light in your bathroom space? Solar Light Whiz is ideal for you!
Solar Light Whiz has been installed by many different people in a wide range of rooms and environments. Including (but not limited to):
Homes. kitchens, bathrooms, bedrooms, living rooms, walk-in robes; any room you can think of!
Offices. We even have them installed at our head office in Camberwell, Victoria!
Cafes.
Factories.
Schools.
Solar LED lights can be installed almost anywhere in your home or office: hard to reach spaces where a skylight can't be fitted, lower floors in multi-story buildings, or even in walls for a vertical fixture!
Imitation daylight:
Being a skylight alternative, the Solar Light Whiz system dims naturally like conventional skylights would when the sun is concealed. This allows for the natural fade-in and fade-out like sunlight would dim behind thick clouds and in the morning or evening as the sun sets and rises.
Some traditional skylights won't be able to reflect daylight late into the afternoon, as the reflective material is of poor quality, or the angle of the roof window isn't optimum. Our adjustable solar PV panel gives you the ultimate flexibility of being able to position it for optimal lighting at all times of day, getting the most out of your system during daylight hours.
Night-time usage:
As we mentioned above, the system can be installed with a night operations kit that allows it to be powered all night long, or as late into the night and as early in the morning as you need!A night operation kit is perfect during winter when daylight is only available for 9 to 10 hours of the day. Traditional skylights cannot give you the same amount of daylight during the winter months.
This is also ideal for feature lighting or entertaining. It allows you to create a warm and inviting space, much like a traditional skylight, except it continues to work in the evening.
Interested in seeing the comparison for yourself? Here are some before-and-after shots went to us from a customer!